Want information about upcoming releases and sales? Sign up and "Follow" me below.
---
Newsletter
---
If you do not receive an email to confirm signing up for the newsletter due to some mail services blocking emails that may look like spam, email me directly (

jen@jennifer-ryan.com

) with the subject "Newsletter" and a short message to sign you up and I will manually add you to the newsletter list.

Signing up for my newsletter will give you the inside information on...

* Upcoming Releases

* Fun and Sexy Excerpts

* What I am currently working on.

I promise I will only send you relevant news and never share your information. So don't wait - sign up - and welcome!

Best, Jennifer Ryan
---
---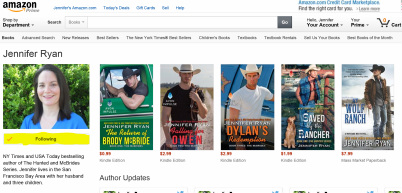 Have an Amazon account and want a notification when my new books come out?
Visit my Jennifer Ryan Amazon Author Page
here
...
Click
the
"Follow"
link under my picture. When I have a new book release, Amazon will email you it's available.
---
---
---
Are you a fan of

BookBub

, the service that notifies you when books go on sale?

I have an author page there, and if you "Follow" me, they'll send you a notification when I have a new release or a sale through them.

Not signed up yet, it's FREE and easy! Just click

here

. Then

click

the

"Follow"

button on my author page.